Gundlach Richardson Price Line
The Gundlach, Richardson, Price faily line made the matriarchal branch of the Stebbins line in the early 1900s. Here are the records that we have of that lineage so far.
John C. Price Jr.
1777–1836 ??
Marriage: 30 December 1796
Franklin, Kentucky, to Susan Gano (Or Susanna Hariet Gano 1777-1856) Together, they had

John G Price 1801 also listed as Major John Gano Price 1797-1867)
William H Price 1800-1836 (questionable)
William Evans Price 1802-1864
Elizabeth E. Price 1806
Daniel C Price 1810
Susan Mary Price 1812
Richard Montgomery Gano Price 1815
Isaac Eaton Price

1808? or 1818

Tephen Price (1818?)

Susan was daughter to Rev John Gano who was the Fighting Chaplain to Gen. George Washington. Rev Gano is (allegedly) depicted in the well-known painting of the baptism of George Washington. Rev. John Gano (1736-1804) m. Sarah Mary Stites (1737-1792) married 1755 in Queens NY.

The baptism event is disputed with evidence for and against.

Rev John Gano Birth on 22 July 1736 at Hopewell, Mercer, New Jersey, United States; Died 10 AUG 1804 at Frankfort, Franklin County, Kentucky and buried at the same

John Gano was born to Daniel Gano 1681–1767 and Sarah Brittain or Britton 1692–1785 who married in 1715 at Staten Island, Richmond, Colony of New York, British Colonial America

Daniel Gano was born to Etienne Stephen Gayneau (GANO) 1654–1725 and Susannah Usselton 1658–1712 who married 1 Aug 1679 Staten Island, Richmond, New York, United States

Isaac Eaton Price

1808-1855, Married Elizabeth Loughborough Price (1812-1870) also Loofbourrow also shown as living from 1816-1870

Florida Price 1838
Mary Belle Price 1840
Nannie Price 1842
Harry Price 1844
Elizabeth Loughborough Price 1846
-1920 (some say b. 1849) perhaps in Kentucky as suggested by a 1880 census. Also called Bettie L. Price
Charles Price 1848

Some newspaper articles suggest Isaac Eaton Price was a professor:


The death of Isaac Eaton Price at the residence of his son-in-law, Edward Haren on Washington avenue, in this city, removes another one of the pioneers who came to the vicinity of Kawsmouth at an early day. Mr. Price first came from Kentucky to Missouri in 1837 on a visit to a brother living in Howard county. His father dying soon after his departure from home, he returned to Kentucky, where he remained at the old home until 1839, when he came to Missouri again, purchasing a farm in Clay county, where he resided for many years, respected by all as a friend, neighbor and citizen. In iaob he removed to St. Louis county, where for a time he was employed in the Surveyor-General's office of Missouri and Illinois, his brother-in-law John Loughborough, holding that office during the administration of Franklin Pierce. Office labor not suiting him, he did not remain long in this employment. He  He purchased a farm in Ray county, Mo., to which he removed, and on which he remained until a few years ago, when he took up his residence with the daughter at whose home he died. Isaac Eaton Price was born in Woodford county, KY August 15th, 1808 and was consequently just two days over 77 years of age when he died. He was the last of a large family of children, there being seven sons and four daughters. He was married twice, his first wife being Susan Haggin, who died without issue. His second- wife, Elizabeth Loughborough, bore him six children, of whom, five are living, the eldest Florida P. being the wife of Mr. Edward Haren of this city, the second Mary Isabele, the wife of Mr. Wyatt Webb, of Vernon county, MO, The third, Harrison Price, residing in California; the fourth, Bettie L., the wife of Rev. H. M. Richardson, of Lexington, Mo., the youngest, a son, Charles G. Price, in the employ of the Santa Fe railroad at Argentine and residing in this city. Mr. Price's wife died some fifteen years ago while on a visit to relatives at Columbia, Mo. And it was at. his earnest request that his remains were forwarded to that place for interment by the side of her who had preceded him. The funeral services at the home in this city were conducted by Rev. E. S. Dulin of Kansas City and Rev. R. P. Evans pastor of the Baptist church of Wyandott. Mr. Price had united with the Baptist church some thirty-two years ago, having been baptised by Dr. Dulin. Died In this city, August 13th, 1885, of rheumatism, George Frank. The deceased has been a resident of this city for the past 20 years, and by close attention to business succeeded in accumulating considerable property. …   




Above From: August 20, 1885 The Wyandott Herald from Kansas City, Kansas · Page 3

Henry McQueen Richardson (b. 1821 or 1825) Married Elizabeth L. Price also known as Bettie Richardson

Had Berta Jean Richardson (Bertie Richardson?) April 9, 1872

Berta went on to marry into the Gundlach family (below)
Find more on H. M. Richardson (Henry McQueen Richardson) below these ancestry tables.

As for Mrs. Elizabeth Price Richardson:





Also, Richardson Hall was built in 1923 and named in honor of Mrs. H. M. Richardson, longtime dean of women at Hardin College. Hardin College and Conservatory of Music (1858 – 1931) was a women's college located in the city of Mexico, Missouri.

Also listed as  Hardin College Faculty, 1909-1910. :

Mrs. H. M. Richardson, Lady Principal, Bible.  Twenty years' experience in girls' schools (Baptist Female College, Lexington,  Mo., and Hardin College); highly recommended by President W. A. Wilson?  Baylor College, Belton, Texas; H. C. Wallace, Lexington, Mo.; Rev. G. W.  Hyde, Lexington, Mo., and W. N. Collins, Superintendent of Postal Order De-  partment, Kansas City office, 1897; traveling in Europe, summer of 1906; Lady  Principal Hardin College since 1902; special work University of California,  Berkeley, summer of 1908.  In the July 04, 1935 issue of Ada Oklahoma Newspaper - Page 5 Mrs. H. M. Richardson and daughters spent Sunday afternoon with  Mrs. Ben Richardson. Mr. and Mrs. Levi Blevins and daughter spent Sunday with Mr. and Mrs. Charlie Blevins and family.

 

Gundlach Line:

John Gundlach of Germany married
Christine Hoffmeister of Germany and had Charles Gundlach on 22 Oct 1842 Baltimore, Fairfield County, Ohio, USA

Charles Gundlach Married Martha Isabella Gundlach (who was born 1850 and died at 28 years old in 1878) Later, Charles married
Lieuranier Rawlings Gundlach
b 1858 d 1913 ( at ~58 yrs old). One report suggests the following: We assume that with Martha Isabella, they had

Stuart Summers Gundlach (S.S. Gundlach)
1870–1945 (some say 1869)
Edna Bell Gundlach who only lived one year….
1874–1875

And with Lieuranier Rawlings

1. Zenobia Gundlach who only lived three years…(1881 1884)
2. William Randolph Gundlach who only lived three years…1885–1888
3. George Augustus Gundlach who lived ~25 years from 1892–1917

However, Stuart's 1945 obituary lists that he leaves following siblings:

Mrs. J.B. Elling, sr., 810 Barnett avenue, Kansas City, Kansas,
Mrs. M.G. Woodson, Los Angeles,
and a brother, C. Rawley Gundlach, Valley Park, Mo

Charles Gundlach's occupation was listed as a shoe merchant.

His marriage to Lieuranier Rallings is recorded on 13 FEb 1881 by minister Rev. S D Givens (Also Gibbons, S.D.) of Cumberland Presbyterian Church

Stuart Summers Gundlach b. 1870, d. 30 Mar 1945 M. Berta Jean Richardson at Fullerton MO.

and had

Wilford Gundlach (?)
Ralph Harrelson Gundlach 1902 (wife , Bonnie Bird Gundlach)
Elizabeth Gundlach (Betty Gundlach Stebbins) 6.29.1905
Jean Gundlach July 17, 1913

Stuart Summers Gundlach is mentioned in several books as a practicing attorney in Kansas City and later as a prosecuting attorney for the County of Shoshone, with a residence in Wallace Idaho.  References:    The Southwestern Reporter, Volume 160, Case & Comment – Volume 16 – Page 173,  and Cases Determined by the St. Louis, Kansas City and Springfield …, Volume 162, 1912.  and REPORT OF THE ATTORNEY GENERAL OF THE STATE OF IDAHO 1923-24

 

also: THE KANSAS CITY STAR, SATURDAY, MARCH 31, 1945, page 2

Also Mrs. S. S. Gundlach (Berta) is noted for her singing in 1913, "…. They knew exactly what note to begin on and everyone 'began at that time. Solo Parts Well Taken The solo parts were well taken by Mrs. S. S. Gundlach, soprano, Mrs. W. K. Corn, contralto, Mr. George Deane, tenor, and Charles H. Amadon, basso. Mrs. Gundlach was particularly enjoyed in "Come Unto Him" and "How Beautiful Are the Feet," both being well written soprano solos.  December 17, 1913
The Atchison Daily Champion from Atchison, Kansas · Page 3

Obituary: S.S. GUNDLACH Lawyer, Formerly of Kansas City, Dies in Wallace, Idaho: S.S. Gundlach, 75 years old, lawyer, formerly of Kansas City, died yesterday at his home in Wallace, Idaho. Born in Lafayette County, Missouri, he lived in Kansas City twenty years until 1916. He attended the Wentworth Military academy, Lexington, Mo., and the University of Kentucky. He was a veteran of the Spanish-American war. He leaves his wife, Mrs. Berta R. Gundlach of the home; a son, Ralph Gundlach, a professor at the University of Washington in Seattle; two daughters, Miss Jean Gundlach and Mrs. Elizabeth Martin [?], both of San Francisco; two sisters, Mrs. J.B. Elling, sr., 810 Barnett avenue, Kansas City, Kansas, and Mrs. M.G. Woodson, Los Angeles, and a brother, C. Rawley Gundlach, Valley Park, Mo.

Berta Jean Gundlach passed in 1953 as shown in this death certificate

Here is a handwritten postcard from Berta Jean, likely in 1939 and likely to one of her daughters (Betty or Jean). Front Back
Betty Gundlach M. Alfred Keith Stebbins

and had




Michael Stebbins (1937)

Michael Stebbins (1937) M. Patricia Anne Lima (1943)

and had

Christian M. Stebbins (1964)
Michael K. Stebbins (1965)
Collected Information on Berta Jean Gundlach nee Berta Jean Richardson
b. April 9, 1872
Berta Jean Richardson (Later Gundlach) was trained in Chicago and New York, and sang professionally in Kansas City, Missouri, before she and her husband Stuart moved to Wallace Idaho. According to Ralph Gundlach's sister Jean, their house was always filled with music and the family often singing together around the dinner table. Stuart Gundlach "had a beautiful baritone voice: and was also trained in vocal technique, although he worked professionally as an attorney." — John Cage: Music, Philosophy, and Intention, 1933-1950
Berta Jean Gundlach passed in 1953 as shown in this death certificate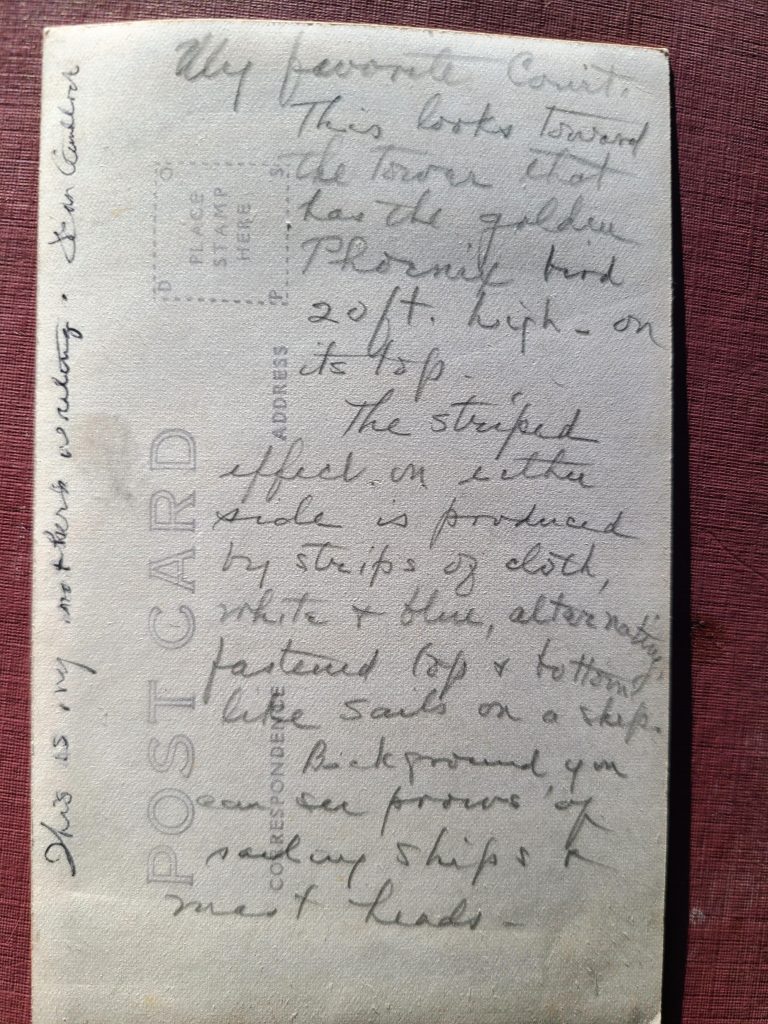 More information about Elizabeth Richardson nee Price (Bertie Richardson) Elizabeth Loughborough Price often listed as Mrs. H. M. Richardson
From a faculty listing from Hardin College: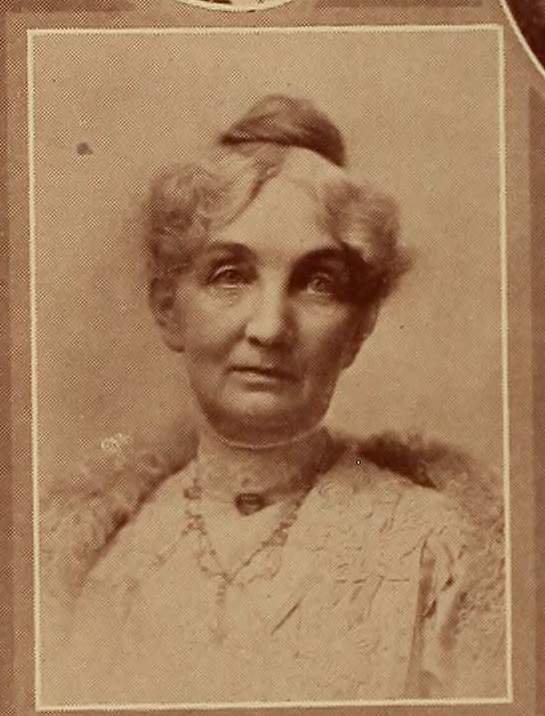 The Liberty Tribune, Liberty, Clay County, Missouri 1885, "Mrs. H.M. Richardson, with her daughter, Miss Bertie, and niece, Miss Lizzie Harren, of Wyandotte, were visiting the family of Prof. Eaton this week." – March 20, 1885: and Mrs. H.M. Richardson, and her daughter Miss Birtie, and niece, Miss Lizzie Harren, have returned to their homes in Wyandotte." 
Mrs. H. M. Richardson, Lady Principal Bible
Many years' experience in girls' schools (Baptist Female College, Lexington, Mo., and Hardin College); highly recommended by President W. A. Wilson, Baylor College, Belton, Texas; H. C. Wallace, Lexington, Mo.; Rev G. W. Hyde, Lexington, Mo., and W. IS. Collins, Superintendent of Postal Order Department, Kansas City office, 1897; traveling in Europe, summer of 1906; Special Work University of California, Berkeley, summer of 1908; Lady Principal Hardin College since 1902.
Traveler: Mrs. H. M. Richardson, the Lady Principal, conducted a party [of students] through Europe during the summer of 1906.
Bettie Price Richardson Passes
The Columbia evening Missourian, December 22, 1920
HARDIN COLLEGE HEAD DIES
Mrs. H. M. Richardson Wife of Columbia Pastor.
Mrs. H. M. Richardson, for 23 years president of Hardin College at Mexico [Mo.] died suddenly in Kansas City Monday Night. [December 20, 1920]
Mrs. Richardson was the wife of the Rev. Henry McQueen Richardson, pastor of the Baptist Church in Columbia in 1867, who died in Mexico, [Mo.] in 1903. She is survived by a daughter. Mrs. S. S. Gundlach. who lives In Idaho. She will be buried beside her husband at Liberty Mo. Arrangements for the funeral have not yet been made.
Collected information on H.M. Richardson
From the book: Missouri Baptist biography; a series of life-sketches indicating the growth and prosperity of the Baptist Churches as represented in the lives and labors of eminent men and women in Missouri / Prepared at the request of the Missouri Baptist Historical Society by J. D. Maple and R. P. Rider., v. 2, we H.M. Richardson.
HENRY MCQUEEN RICHARDSON, D. D.
1821-1903
Religious Activity in Missouri 1865-1900
J. C. M.
Henry McQueen Richardson was born in Vernon, Oneida County, New York, Nov. 4, 1821, and died at Mexico, Missouri, Jan. 14, 1903. His collegiate studies were pursued at Madison (now Colgate) University, at Hamilton, in his native state.
He was converted at Rochester, New York, in 1848, and was baptized into the fellowship of the Second Baptist church of that city. It had been his purpose up to this time to become a lawyer. He was now constrained to surrender the law and devote his life to the ministry. He spent one year in the study of theology at Madison, and then, in 1850, with two professors and a few students, went to the, then, new Theological Seminary at Rochester. He was one of the six students composing the first class to graduate from that institution.
He had been licensed to preach in 1848, and was ordained in Hamilton, Ohio, in November, 1851, where he began his first pastorate. His fidelity and ability were both shown in the fact that his first pastorate continued for eleven years.
His next pastorate was at Oswego, New York, where he labored for three years. He then, because of impaired health, came to Missouri, not intending to remain permanently. Here he formed the acquaintance of D. L. Shouse and Hon. David Hickman, two of the intelligent laymen of our Baptist hosts in this state. In this meeting there was clearly the leading of the Lord. Among the many great and consecrated men of the pews, by whom, Missouri has been so richly blest, no better or truer men have held leadership than these two honored laymen.
The result was that Mr. Richardson was induced to make his home in this state and to remain, giving all the remaining years of his useful life to the churches in various parts of this great commonwealth.
His first pastorate in Missouri was in Columbia, in 1867. His services here were such that the church grew along all lines of aggressive work. He then became leader of the Baptist cause in Fulton. His quiet, but earnest services could not fail in beneficial results. There were many additions to the membership and those who came into the church were well taught, as to all the needs of the human heart and made acquainted with doctrines of the church they were joining.
In each one of these fields his marked fidelity and learned expositions of the scriptures furnished his people the best possible spiritual nourishment.
In 1870 he was married to Elizabeth L. Price of West Port, Missouri. Two daughters were born to them. The younger child died in infancy. The elder one, now Mrs. S. S. Gundlach, lives in Kansas City.
Upon his surrender of the work in Fulton he was influenced to take the oversight of the church in Liberty, Missouri, in 1873. Here he did his best work in Missouri. He had in his congregation the faculty and a very large per centum of the students of William Jewell College. To say that he had a critical audience, is but to mention a fact, without any conceivable reflection upon the genuine piety of these good people.
That he measured up to the full expectation of this church finds proof in the fact that the college here in 1878 conferred upon him the title of Doctor of Divinity, an honor that has never been carelessly bestowed by this college.
His expositions of the sacred scriptures were scholarly and always in harmony with the spirit of the denomination of Christians with whom he was identified. He not only believed the doctrines of the Baptist churches, but he loved them because he felt sure they were true. There was, therefore, here all the freedom he could ask. He knew that the service of love is the highest possible type of freeness. Had he not been in heart and soul in full harmony with his own people, he was too manly to remain and hypocritically conceal any of his real convictions.
About the time of his departure from Liberty he published a volume of sermons and sketches of his sermons. This fact brought from the members of the faculty of the college and a number of those who during their college studies had been under his ministry, expressions of their high appreciation of his ability as a preacher. He was blessed with a keen and strong intellect. He easily comprehended the meaning of words and readily applied that meaning to the practical purposes of life. His love of truth and love of humanity made him a true and faithful servant and a watchful shepherd. He never for a moment swerved from the real purposes of a life devoted to the uplift of humanity.
He had an extensive knowledge of music. Whether presiding at the church organ or leading the service of song, he was equally at home. In this extensive field of usefulness his knowledge was so widely known and recognized that he was selected as one of the collaborators in the preparation of the Baptist Hymnal. Dr. Richardson was an "all around" leader in every church where he became pastor.
His pastorate in Liberty continued a little over eight years, ending July, 1881. He then took the oversight of the Baptist church in Maryville, Missouri.
Just how long he continued his labors on this field the writer does not know. That he did his work well need not be said. He was always a wise builder. He had as few eccentricities that hindered his usefulness as any man that ever filled a Baptist pastorate in the great state of Missouri. It would be an injustice not to quote some of the statements made concerning his work in Liberty by the men who knew him best. These are men, too of such wide and varied culture that their estimates are worthy of consideration. These quotations might be greatly enlarged, but the following must suffice lest this sketch should be ex- tended so as to be out of proportion to many others who are equally worthy.
"As a sermonizer he had few superiors. He digged his sermons out of the Bible; he chained his thoughts together with scriptural truths. Especially were his sermons anchored to the doctrines of divine sovereignty and to free grace."—(J. C. Armstrong.)
"No church ever had a more conscientious and faithful pastor. I remember outlines of his sermons that have been an inspiration to me. While he was cultured and scholarly, he did not feel it beneath him to go into homes of poverty and obscurity with the word of life. His life and spirit are so woven into the life of the students to whom he preached that while he is dead, yet he liveth."—(H. C. Barton.)
"During the first eight years of my residence in Liberty it was my good fortune to be closely associated with Brother Richardson. I knew him in his own home and in mine. I knew him in the social circle and as a citizen. I knew him as a warm friend of William Jewell College and as a member of its Board of Ministerial Education. I knew him as a consecrated minister of the Gospel and as a warm-hearted pastor of his people. The charms of social life had a strong attraction for him and he could easily be the life of any company with which he might be thrown. He was an accomplished musician and delighted at times to pour out his soul in song or in playing upon his favorite musical instrument. As a citizen he was public-spirited, aggressive against all forms of evil and fully alive to the highest interest of the community in which he lived. In everything that pertained to the moral uplifting of the people he was always a ready helper; indeed, he was a leader and was ever to be found at the front." -(Prof. J. G. Clark.)
"His was a complex nature. In character, naturally strong and aggressive, he still possessed a gentleness almost feminine. I have often thought that this gentleness in him was the result of two potent forces: the grace of the spirit softening, humanizing, making Christ-like, a nature that otherwise might have displayed some undue asperities:—and the subtle influence, the divine science, music, studied by him till he knew the tenderness of its heart and its refining influence was manifest in him in an apparent trans- formation of nature. I have said that he was strong and aggressive. This he ever was in opposing evil; but gentle and sympathetic in leading the penitent wanderer into the path of right. He combined in his nature, to a degree not often seen, the sturdy qualities of the lion and the gentle characteristics of the lamb. On an introductory page of The Baptist Hymnal, H. M. Richardson's name is found in company with the names of Justin A. Smith, John A. Broadus, Basil Manly, and many others of national reputation; and in many respects he was the peer of any of them. His appreciation of hymns as poems of devotional utterance was excellent, and his judgment of tunes as efficient aids in giving expression to the devotional feeling was sound. So that I do not hesitate to say that in no small measure is the unusual adaptedness of tune to hymn, as found in our hymnal, due to his discriminating judgment and sanctified taste."—(R. P. Rider.)
"Perhaps the greatest work of his life was accomplished in his eight years' pastorate at Liberty, Mo. There he preached to a great many students for the ministry and befriended and encouraged them in so many ways that his thought and life unconsciously became theirs and will live and serve to the end of time. He was a musician and a scholar. He was a Gospel preacher. He preached Christ and Him crucified constantly, vigorously, and lovingly. In his last talk in the ministers' meeting in Kansas City, Mo., a few months ago, he said he could not say as some, that if he had his life to live over he would have preached differently; for, he said, he had always preached Christ. He said he might have preached Him more and in a better manner, but that he had, all through his minis- try, preached Christ and Him crucified."—(F. L. Streeter.)
"Dr. Richardson was a close student and was highly reputed in his church as a theologian and scholar. He was the author and editor of several books; one, a compendium of outlines for sermons, is especially well thought of. He also compiled a book of scripture readings for chapel exercises and a book of sacred songs. He was a musician of considerable ability, both in vocal and instrumental music. Dr. Richardson was a man of very gentle, retiring manners and of great dignity of character."—(Lexington Intelligencer.)
When he had passed beyond his three score and ten years, he, with his ever faithful helper and wise counselor, Mrs. Richardson, settled down quietly at Hardin College, in Mexico, and spent the last year of his life on earth in a contented and happy old age. From this place he was called to the beautiful home above, where he was, we are confident, greeted by a great host of those whom he had led to the Savior. His body was placed in the beautiful cemetery at Liberty, Missouri, where, in life, he had for so many years preached the gospel.
H.M. Richardson Ordained
ORDINATION CEREMONIES. ,
Rev. H. M. Richardson Regularly Ordained as a Congregational Minister.
The Candidate Passes a Host Satisfactory Examination Before the Council.
The pastor of the Congregational church is now a regularly ordained minister. Incoordination council met at 1 p. m. Wednesday. Rev. A. A. Brown read the call for the council, and one motion was elected moderator. Rev. C. H. Burroughs of Belle Fourche was elected scribe. After prayer and singing, the roll of the council was made out as follows:
Congregational Church Belle Fourche Rev. C. H. .Burroughs, pastor,
Mrs. C. H. Burroughs, delegate; Congregational church of Deadwood, Rev. A. S. McConnell, pastor; Congregational, church of Lead City, Rev. George Scott pastor; Rev. A. A. Brown, superintendent of home missions, present by special invitation. Mr. McConnell was appointed to conduct the EXAMINATION OF THE CANDIDATE, Mr. H. M. Richardson.
The candidate read the creed, adopted by the national Congregational council of 1883, as a statement of his doctrinal views.
He was questioned with reference to the nature of the resurrection body, inspiration, future probation and Sabbath observance. In reference to his literary attainments he stated that he was regular graduate of St. Johnsbury academy, St. Johnsbury, Vt, of Beloit college, Beloit Wis., and of Chicago Theological Seminary. He had also received the degree of Master of Arts from Beloit college. In reference to religious experience and call to the ministry, he said that owing to the faithful teaching of his parents, who were foreign missionaries, he had very early had strong religious convictions, and at the age of twelve, without urging from any one, he united with the mission church of Constantinople, Turkey. At the age of fourteen be decided It to be his duty to become a minister of the gospel, and with that end ever in view he had pursued his course of study. At this point the examination closed, and the council withdrew, and on motion the examination was pronounced satisfactory.
H.M. Richardson as a Scholar
1891 CHICAGO THEOLOGICAL SEMINARY.
Systematic Theology. — The Lucretia Ambrose prize is the income of one thousand dollars, and is given to the member of the Middle Class who prepares the best essay on a designated topic in Systematic Theology.
This prize was, in 1891, divided between Mr. H. M. Richardson and Mr. L. G. Kent
Also from "The Round Table" Volume XXXVII Beloit, Wisconsin, Sept 26 1890 NO. 1. page 193
Henry M. Richardson has won the prize of $50.00 offered in the Chicago Theological Seminary to the student in the Middle class writing the best essay on an assigned topic in Theology. His subject was "Doctrines on Election." Mr. Richardson is spending a few days with his mother in Beloit, but expects soon to leave for the Black Hills where he will be engaged in work in the summer months.
Other in formation on H. M. Richardson
H. M. Richardson is said to have been born 1825 in New York. The census page lists his father as having been born in Scotland, his mother in New York.. Also H. M. Richardson is said to have resided in: 1880 Liberty, Clay, Missouri, United States. Also, Precinct 4 Kansas City Ward 8, Jackson, Missouri, United States , also Lexington, Mo.
He is listed as the pastor of Baptist Church, Lexington, Lafayette Co, MO from 1884-1895.
============================================
About Ralph Gundlach:
Ralph Harrelson Gundlach was an associate professor of psychology who taught at the University of Washington from 1927 until January 1949, when he was fired following hearings held by the Washington Legislature's Joint Fact-Finding Committee on Un-American Activities and by the U.W. Faculty Committee on Tenure and Academic Freedom. The dismissal of Gundlach and two other U.W. professors—the first formally acknowledged faculty firings in the United States for Communist-related activities—set a precedent for the rest of the country to follow in the 1950s.
Gundlach was born in Kansas City, Missouri, in 1902. He enrolled at the University of Washington in 1920, received a B.A. in political science in 1924, and an M.A. in psychology in 1925. He then went to the University of Illinois where, in the summer of 1927, he completed all requirements for a Ph.D. except for his dissertation. He left to become a lecturer at the U.W. but returned to Illinois temporarily in December 1927 to finish his Ph.D., which he was awarded in 1928. Gundlach continued to teach at the U.W., was promoted to assistant professor in 1930, and to associate professor in 1937. He developed a reputation as a leader in his field and spent summers teaching at other institutions, including the University of California, Berkeley (1939 and during a leave of absence from the U.W., 1942-44); the University of Southern California (1940); the University of British Columbia (1944); the University of Iowa (1945); and New York University (1946).
Gundlach found himself at the center of controversy throughout his career at the University. In 1944 the U.S. government wanted him to evaluate servicemen, but the Civil Service Commission failed to give him a security clearance because they thought he might be a Communist sympathizer. At the U.W. Gundlach often became the center of negative attention because of his field of study and methods of teaching. Dean Edwin Guthrie, also a psychologist at the University, disagreed sharply with many of Gundlach's practices and became his nemesis throughout the 1940s. Practices such as distributing questionnaires on race relations and anti-Semitism met with disapproval from Guthrie and other members of the faculty and administration. Another incident involved a 1946 survey that Gundlach sent to reporters in Washington D.C., asking their opinions of Washington's Congressmen. The results were favorable for Hugh DeLacy, and Gundlach leaked the information. After DeLacy publicized the results and attributed them to a U.W. survey, Gundlach found himself criticized for improper conduct and for hindering the school's efforts to remain aloof from partisan politics. The scope of Gundlach's teaching also irked some faculty at the University who thought his psychology courses dwelt too heavily on political and economic theory and infringed on the territory of other departments. This disapproval came despite the recognition Gundlach had received as a leader in his field and his service as President of the Western Psychological Association. These controversies had tangible results for Gundlach, who did not receive promotions when he was eligible or get a salary increase when the University restored faculty salaries to pre-Depression levels.
The Board of Regents was to decide the fate of Gundlach and the two party members, but first President Allen made his own recommendations. Allen advised the regents to follow the advice of the tenure committee and fire Gundlach, but he also recommended firing Herbert Phillips and Joseph Butterworth, the two professors who were active Communists. Allen agreed with the tenure committee that two professors who had renounced their Communist views, Garland Ethel and Harold Eby, should be allowed to continue teaching. Allen refused to pass judgment on Melvin Jacobs, who had renounced his former Communist membership but had once denied his previous involvement. In January 1949, the regents followed Allen's advice and fired Gundlach, Butterworth, and Phillips, and placed Ethel, Eby, and Jacobs on two-year probation. Gundlach's situation then worsened when he was convicted of contempt of a legislative committee for his uncooperativeness with the Canwell Committee. For this offense the court fined him $250 and sentenced him to thirty days in jail.
Gundlach made many attempts to clear his name and punish those who had ended his career at the University. After his firing in 1949, Gundlach brought suit against President Allen and several New York newspapers for articles in which Allen was quoted as saying that the three faculty members (which would include Gundlach) were dismissed for being members of the Communist party. Allen claimed he had been misquoted; the newspapers printed retractions; and Gundlach withdrew the suit. Gundlach sought a lawyer to file a tenure lawsuit against the U.W., but the attorneys Gundlach approached deemed the case to have insufficient legal grounds. Gundlach and a friend at Amherst College, Colston Warne, also lobbied the American Association of University Professors (AAUP) to conduct a speedy investigation of the U.W. dismissals, but nothing came of these efforts until seven years later. At that time the Association decided it was too late for censure.
Redbaiting became a dominant feature of Washington politics during the election of 1946, and it did not take long before it affected the University. Albert F. Canwell was elected as a freshman Legislator in that year and later created the Interim Committee on Un-American Activities (better known as the Canwell Committee). In July 1948, this committee held hearings on the Communist activities of University faculty. The Committee subpoenaed numerous faculty members whom it suspected might be members of the Communist party or Communist sympathizers. Originally Gundlach was one of nine professors who announced they would not respond to the orders, but soon became the first to recant. In his testimony before the Committee, Gundlach refused to answer questions about his political affiliations.
Although the Canwell Committee could not fire Gundlach, his behavior at the hearings led to more problems. The eleven-member Faculty Committee on Tenure and Academic Freedom met between October and December 1948 to consider the cases of Gundlach and five other professors. Although it did not have final authority, this committee was charged with conducting an investigation and making a recommendation to U.W. President Raymond B. Allen and the Board of Regents. Gundlach had a lawyer at the hearings and continued his evasive behavior, arguing that because he had never been a member of the Communist party, the charges did not apply to him. At the hearings, members of the Communist party testified that Gundlach had been present at meetings with them and that they had assumed he was at least a Communist sympathizer. The committee concluded that membership in the Communist party did not warrant dismissal and recommended that two professors who admitted their Communism remain on the faculty; the committee came to a different conclusion regarding Gundlach. The faculty committee found no evidence to show that he was or was not a Communist, but they said they were dissatisfied with his "evasive" and "self-serving" testimony, and that he was surely a party "sympathizer." The committee decided that the University should fire Gundlach because he had failed to answer President Allen's questions directly, which showed a neglect of duty toward the University. Also, the committee expressed its displeasure with Gundlach's "biased" research in social psychology. The committee did not recommend firing any of the other professors, even those who were currently members of the Communist party.
Despite his unsuccessful efforts to litigate against the University, Gundlach continued to be a recognized leader in his field. Shortly after his firing from the University, he received scholarly endorsements from various professional organizations, including the Society for the Psychological Study of Social Issues, the Consumers Union, and the American Psychological Association. The Association conducted a peer survey in 1954 which resulted in responses which tended to verify Gundlach's objectivity and professionalism. He prospered as a private psychotherapist in New York City and worked as a consultant to the New York Medical College. Gundlach continued to publish extensively in psychology journals and, in his own words, continued working for "lost causes," such as Julius and Ethel Rosenberg's appeal to the U.S. Supreme Court, for which Gundlach and other psychologists submitted a brief.
Gundlach retired to Great Britain in 1973 and died in London on August 15, 1978.
========================================================================